The Candidates On Climate Change
Gota wants more emissions, Sajith wants zero, and AKD doesn't have a clue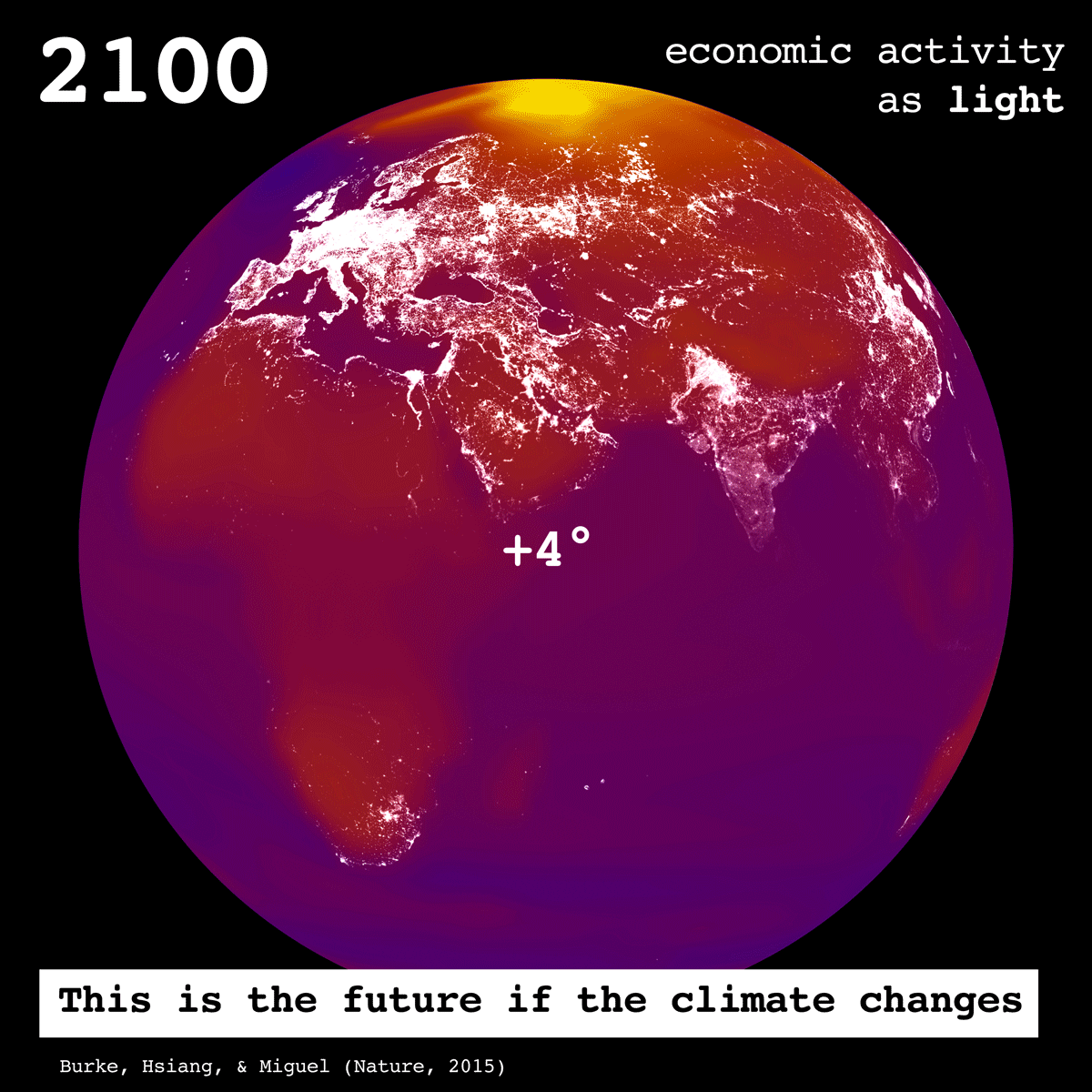 Climate Change is the most important issue facing Sri Lanka. It doesn't matter how many roads or schools we build if our environment collapses, and it will. It will collapse right here. Sri Lanka is the second worst affected country in the world.
In the map above you can see economic activity as light. In 2100, if everyone just carries on, Sri Lanka will literally be wiped off the map. Just look at what happens to my city as the Earth warms: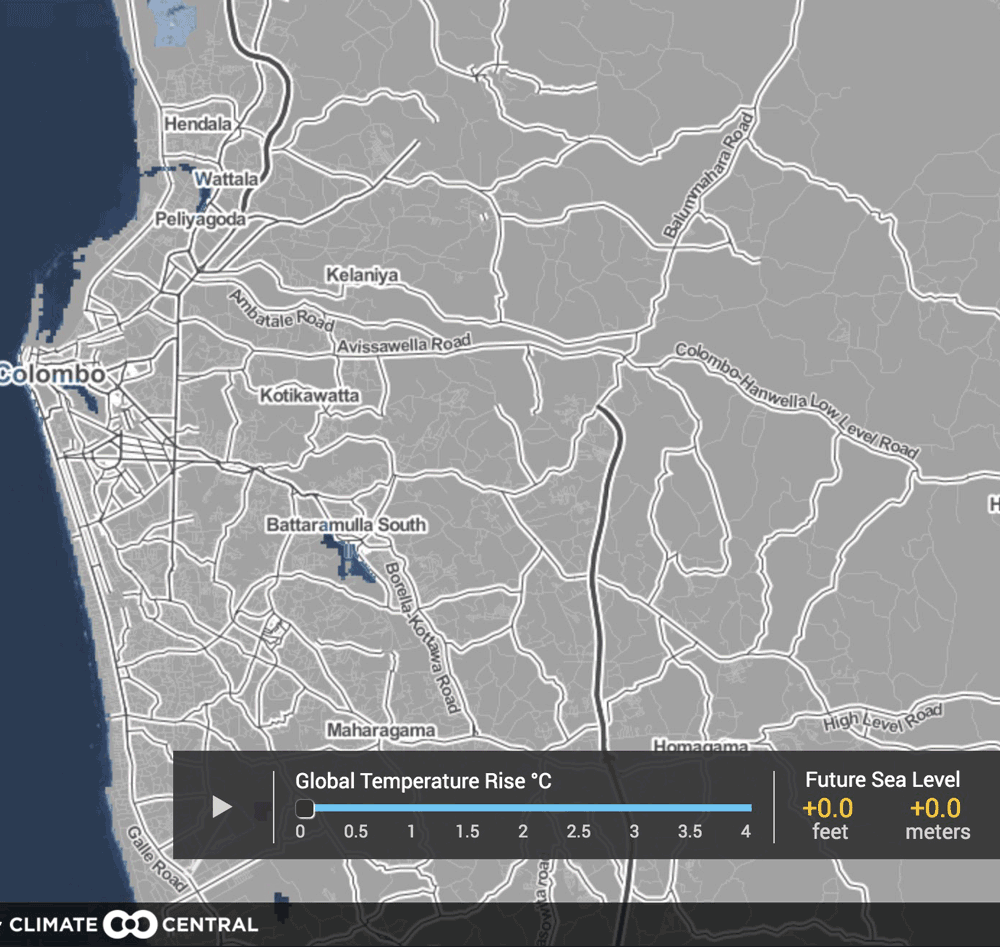 We just go under. My city will turn into a dengue-infested swamp.
It's not just Colombo. Negombo, Batti — the entire coast disappears. Flooding and drought will happen every year. The monsoon will break. Our economy, our children, everyone will suffer. Sri Lanka faces catastrophe by 2050 if the world doesn't change.
What Do The Candidates Say?
You would think that this is a major part of our Presidential campaign, but it is not. Sri Lankan voters don't seem to really know or care, but it's happening anyways and the candidates have to do something.
The three main candidates have very different ideas, as I've cut-and-paste here. I'm going only by the manifestos, so tell me if I've missed anything.
If I had to grade the candidates on climate change, I would fail Gota and give Sajith a B. AKD never even showed up at class.
See for yourself:
Gotabaya Rajapaksa (SLPP)
Gotabaya Rajapaksa has made a show of planting trees to run a carbon neutral campaign, but his manifesto plans to extract more fossil fuels, so who cares.
Energy
By 2030, we expect the country's renewable energy mix to be 40% of the total portfolio. We also anticipate that hydro and renewable energy together would account for 80% of the overall energy mix by 2030.
We will also expedite the exploration of natural gas identified in the three zones of the geological survey, to ensure that the people of this country would reap the benefits in the next three years.
The oil refinery located in Kolonnawa, which is 40 years old will be modernized while the oil storage tanks in Trincomalee will also be re-constructed and developed so that they can be used for the economic development of the country.
Immediate actions will be taken to convert the Kelanitissa plant to a natural gas turbine plant, where similar two plants will be implemented in Kerawalapitiya and Hambantota before 2023. As part of the environmental-friendly policy, we will convert the fuel-powered plants located around the Colombo area to natural gas turbine plants within the next year.
Gota has some of the right ideas, but he's also calling for extracting natural gas and continuing oil refineries. Natural gas is a fossil fuel. It's cleaner than coal, but it's still bad and basically not 'permitted' under the Paris Accords. The budget for new fossil fuel extraction is zero. Not a little bit. Zero.
We will add 100MW of wind energy in Mannar by 2021. Additionally, we expect to add 800MW of solar energy to the national grid by executing a wind and solar power project with a public-private partnership in potential locations around the country including Mannar, Poonareyn and Monaragala.
Roof top solar systems will be encouraged so that households and small businesses would have access to low cost energy, which will be done in the course of the next five years. The total cost of such investments would be made available through bank loans with low/concessional interest rates. The government will also introduce a new method to release excess power generation to the national grid in improving solar energy utilization.
The use of fossil fuels will be discouraged and decarbonization will be encouraged especially in transportation, industries and building construction. Steps will be taken to arrive at a net carbon zero country.
These are all the right ideas but again, they mean nothing if we're pulling new fossil fuels out of the ground. This plan is a net negative. Unless there is a bold commitment to renewables it just won't happen.
Mitigation
Presently, Sri Lankan government spends billions of money every year to manage the disasters that occurs due to the flooding in the areas of Kelani, Kalu, Ging and Nilwala rivers and the droughts in the dry regions of the country. Therefore, we will utilize this money to proactively manage these situations by developing a flood control mechanism with prevention and forewarning systems and water storage and pumping methods to dry areas through drainage and canals systems. We will form a committee consists of experts to execute this project by 2025.
This mitigation steps are important but again, unless we take global leadership on this issue we're screwed. Gota's plan is business as usual, and business as usual means the destruction of our civilization.
Sajith Premadasa (NDF / UNP)
Sajith's manifesto calls for a switch to completely renewable energy by 2040. This is correct. There is no other option. He also talks about mangroves and flood management, which is also essential, because a lot of damage is already happening.
Most importantly I think, he talks about Sri Lanka taking global leadership on this issue. The planet is literally global and we have to inspire and shame the world to change if we're going to survive.
Leadership
Sri Lanka will embrace its moral responsibility to transform itself into a nation completely committed to renewable sources of energy.
We will, as a nation on the frontline of the Climate Crisis, advocate for change in international practices and for adherence to the Paris Climate Accord. This will be a cornerstone of our Foreign Policy. The capacity of the Central Environmental Authority will be expanded with the necessary experts.
This leadership part is vital. As the country perhaps most effected, we have to make the most noise about this. We have to lead.
Energy
A switch to 100% renewable energy by 2040.
We will begin the journey to make Sri Lanka completely energy self-sufficient by 2040. All of our energy will come from renewable sources like solar and wind. The equipment needed to generate renewable energy will grow more economical as applicable taxes are removed. Similarly, taxes on electric automotive batteries will be reduced.
All reservoirs used for hydropower will be reconstructed to optimise their water retention capacity. Nationwide measures to reduce energy consumption will be implemented, with the use of energy-efficient equipment such as LED bulbs instead of CFL bulbs stipulated throughout the Government, and the public and private sectors.
The Soorya Bala Sangramaya, or Battle for Solar Power, will be accelerated with transparent and fair mechanisms to promote floating and rooftop solar installations.
Right now we get about 50% of energy from hydro, which is renewable. I assume they're including this in the drive to 100% renewable, but that's not clear.
We need an aggressive target of 100% renewable ASAP because the alternative is 100% bad.
Mitigation
We will enter the global Carbon Emission Trading market by generating national carbon credits through the planting of 30 million trees over a 5-year period.
We will introduce fresh initiatives aimed at conserving coastal mangrove forests, as well as protecting the coral reefs off our coast.
We will take proactive measures to control and manage regular flooding. Our first step will be to create a River Basin & Watershed Authority.
Ar urban canals and the Kelani, Kalu, Gin and Nilwala river basins will be dredged and cleared in readiness for periods of intense rain.
Lot more stuff about drainage.
Some level of sea level rise is already locked in. The monsoon is already broken. This simply means more flooding, and mangroves and drainage are our only defense. This works is vital and will be much cheaper than disaster relief later.
In short, Sajith's plan makes the most sense. We need to lead, we need zero emissions, and we have to plan for the damage which is already coming. He's not as great as I would want on climate — I think this should be front and center, the unifying battle of our generation — but he's by far the best candidate running.
Anura Kumara Dissanayake (NPP / JVP)
AKD's manifesto is mercifully short, but includes nothing about climate change or energy policy. I can't find anything in the manifesto and I can't find anything Googling. To me this is actually disqualifying. He's a wonderful, moral candidate but the fact that he has no plans for the biggest threat facing the world disqualifies him from my vote.
I was actually surprised by this and quite disappointed. If you care about the environment and, you know, a livable island for your children, you can't vote for AKD. It's like choosing a captain of the Titanic that doesn't care about icebergs. Which is what happened, and that didn't go well.
So Who To Vote For?
I'm voting for Sajith for multiple reasons, anti-facism being high up there, but I would honestly consider facism to fight climate change. It's really bad. It's really really bad. The more I read about it the more scary climate change is, and our little island is literally on the frontlines. We are going to get smashed by this, and very very soon.
It frankly doesn't matter if we get universal preschool, or ethnic harmony, or a new Constitution, or houses for all. These are all deck chairs on the Titanic. Most of the candidates are talking about how we live, but we are at risk of losing where we live.
Sajith is by far the best candidate on climate change, but he's not good enough. No matter who is elected we have to wake up and fight for our island and our planet, or we just won't have one.
This is the most important issue in this and every election until we stop emissions and secure our civilization. Please vote wisely, and keep fighting climate change every day.